Bespoke 1930s Front Doors
Handmade in Manchester, UK
---
1930s Style Front Doors
Would you like a new 1930s style front door for your property? We design and handcraft completely bespoke front doors in the most popular 1930s styles.
Our 1930s door designs are thoroughly researched for authenticity and are based on the many originals we have in stock. If you have something particular in mind we are happy to work with you in order to create your perfect door.
Our doors are made from the high quality hardwood, hardwaring and perfect for use externally.
Below you can view further examples of the 1930s front doors we have designed and manufactured for customers across the United Kingdom.
Add Bespoke 1930s Stained Glass Panels
We can also create 1930s style stained glass panels when needed. We have a large range of 1930s designs we have previously made which you can browse for inspiration. You can have any of these designs re-created in your desired colours and sizes, or create one with us.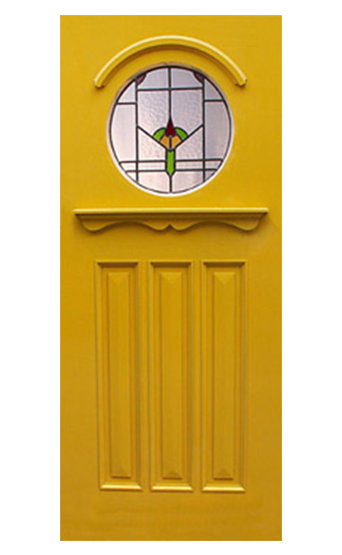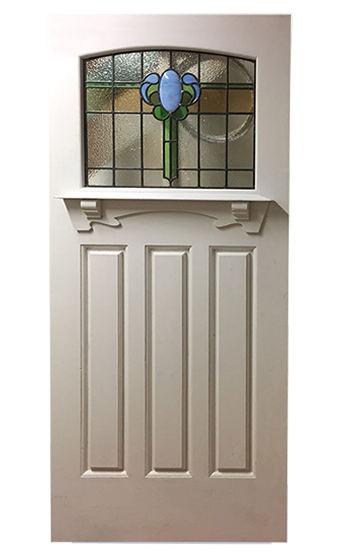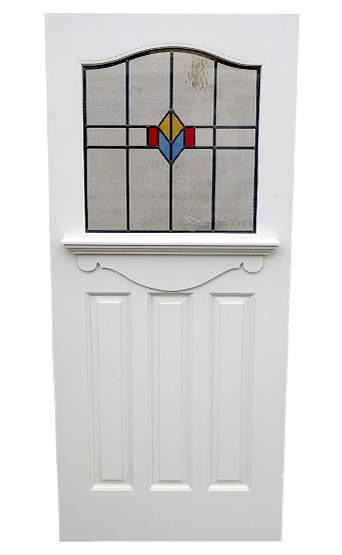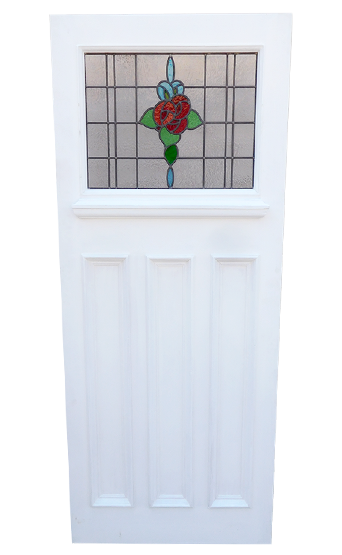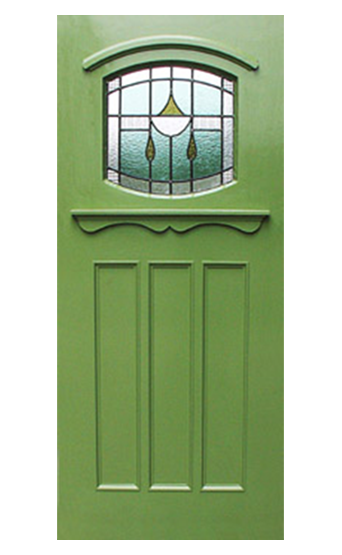 1930s Period Doors & Entrances
During the 1920's and 1930's traditional front doors went through a great transformation. Two new design styles peaked in popularity during these decades which are often referred to as Art Deco and Streamline Moderne.
Learn more about the Art Deco style doors we supply here.
1920's and 1930's doors quickly became modern, fresh and very decorative. Their new style could be identified by rich colours, bold geometric shapes and lavish ornamentation.
In the late 1930's, doors often featured curving forms, long horizontal lines, chrome hardware and porthole windows. A trend finally emerged for lighter and more subdued colours. In addition, large, colourful geometric stained glass designs were used.
1930s style doors are perfect for traditional period properties and will add a splash of personality into your home.
The use of stained glass panels
The Arts and Crafts movement during the 1920's and 1930's resulted in a resurgence of interest in using stained glass. Doors were being decorated with beautiful glass panels, created by William Morris with floral patterns and designs based on medieval themes.
Morris encouraged the art of painting the glass as well as stained glass. Towards the end of the century Art Nouveau became fashionable and the curved shapes were particularly well suited to stained glass designs in 1930's doors.
Many 1930s front doors would feature large curved or round stained glass panels within the top half of the door. Furthermore stained glass would often be used in the frame around the door. This could be a single glazed widow on either side of the door, or sometimes even both. We offer a large range of fully bespoke stained glass panel designs to suit your door.
Internal 1930s Doors
Most internal 1930s doors were solid panelled with three central panels. Some contained simple stained glass or regular glass inserts to compliment the entrance, walls and floors.
1930s Door Furniture & Hardware
During the 1930's door furniture became a lot more decorative. A range of different finishes were used for furniture such as door knobs, door handles, key covers and letterplates. Chrome was a very popular choice for 1930's period door furniture.
House numbers would often be engraved onto overhead glass panels or even the top panel within the door. Additional furniture such as knockers or door bells would add the final lavish touch.
We offer a huge range of door furniture and hardware in many finishes and styles to suit your dream door and home decor.
COMPLETED RESTORATION PROJECTS & BESPOKE 1930S STYLE FRONT DOORS
Take a look at some of the many 1930s door projects we have completed for our customers over the years.
---