Victorian Stained Glass Panels
Read our guide to understanding Victorian style stained glass windows and doors. This article provides some characteristics and features of stained glass windows done in the Victorian style so you can add this to your list of restoration projects for your Victorian home.
---
Understanding Victorian Stained Glass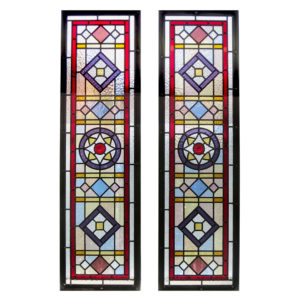 A favourite feature of Victorian homes was stained glass of all kinds as it was a way to individualise and personalise a residence. There was a wide range of designs and features that made this a stunning aspect of Victorian exterior style and Victorian interior style as part of doors and windows.
Stained glass relies entirely on daylight in order to truly enjoy the effect that the leaded glass patterns can make on the observer, mixing numerous colours and designs or offering easily identifiable items like flowers, animals, and the like. Not only do the colours create an incredible effect, but there are also often textures within the glass that enhance the artwork.
The stained glass was originally made by combining and melting sand, lime, and potash, which could then be coloured by adding different metallic oxides for various colours. Other processes later allowed for sheets of this glass to be made with a surface layer of colour that would then be framed with lead and melded together.
Victorian Style in Stained Glass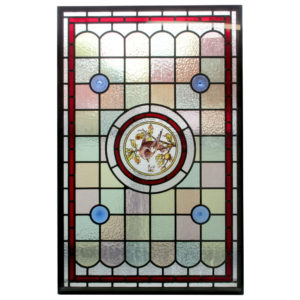 As a focal point in a Victorian home and also found in public buildings during this time period. Stained glass windows and stained glass inserts in doors were often considered extravagant and ornate in their designs.
They often served as a way to designate a person's wealth and social status. Those in lower social classes could not afford such embellishments to their residences at the time.
Stained glass panels were often found in picture windows as well as part of foyers, bathrooms and staircases. Often those that could afford such decor items would use them in large numbers as the Victorian home was noted for its cluttered look.
There are numerous ways to incorporate the Victorian style of stained glass into your home. You can opt for a classic geometric design with clear architectural glass or you can add as much colour as you want, depending upon whether you are incorporating items like flowers or animals.
Often, you can find stained glass in corner window panels that further enhance the effect of the stained glass design by allowing the light to hit each window from multiple angles.
Get Your Own Victorian Style Stained Glass Door
We stock a great range of original Victorian style doors which can be fully restored ready for fitting.
Alternatively we also supply fully bespoke Victorian style front doors with customised stained glass that will complement your Victorian exterior and interior features.
Add Fully Bespoke Stained Glass To Your Order
Be sure to visit our gallery of stained glass designs that emulate all the popular period styles which can be handmade to order. Request a quote for a fully bespoke panel today.
---